2 minutes reading time
(409 words)
Joomla Community Present at FISL - International Forum of Free Software
The Joomla community was represented by six people at the 18th edition of FISL - International Forum of Free Software that took place from July 11th to 14th in Porto Alegre, Brazil.
Recognized as the event that brings together free software communities in the world, FISL has been around for 18 years, always seeking to strengthen collaborative knowledge and build free technologies.
In this edition, the Joomla community focused on interactive activities to share different views and experiences with the use of the CMS and Framework. During the four days of the event, Johnny Salazar Reidel, Ben-hur Oliveira Morais, and Angelo Roberto Viana Júnior answered attendees' questions in a booth dedicated to the Joomla User Group.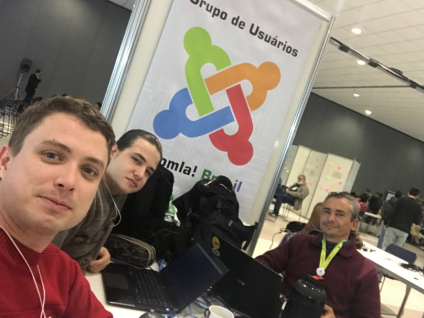 From left to right: Johnny, Angelo and Ben-hur
Roberto Oliveira and Chrystian Ariel joined also the community for a chat to share general information about Joomla, and answer attendees' questions.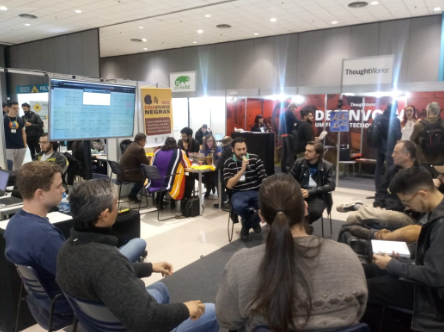 Chat circle about Joomla with the participants of the event
The participation in the event was also marked by an interactive sixty-minute talk where each community representative spoke for ten minutes about their experience using Joomla.
The session began with Johnny Reidel talking about projects he has managed and developed in the past twelve years. Among his experiences, the launch of the Unisinos Portal project, in 2013 with 32 extensions, more than 8 thousand pages and an average of 2.5 million page views / month.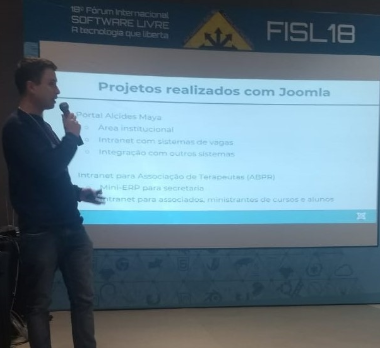 Johnny talking about his twelve years' experience with Joomla
Following on, Roberto Oliveira talked about his experience using Joomla with Moodle, and also Joomla with Mautic.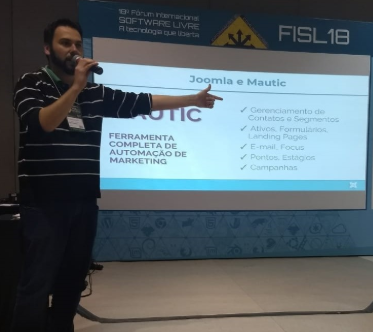 Roberto presenting about the use of Joomla with Mautic
Chrystian Ariel gave us insights into experience using Joomla from an advertiser's view with a focus on front-end. With a few months of experience using CMS, he focused on advocating how fast his learning curve was.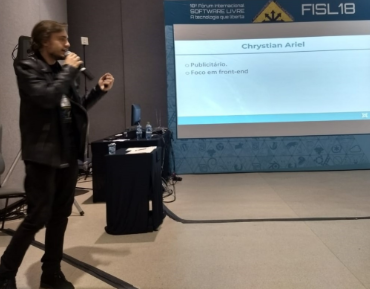 Chrystian introducing himself to the participants
Ben-hur's presentation was about a social project in which he participated where Joomla was used as a way to teach and integrate children with Web technologies.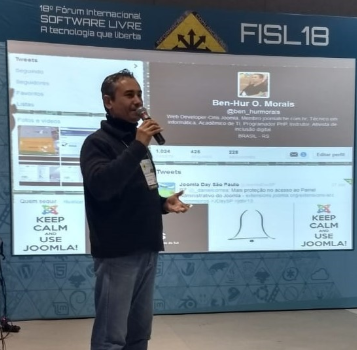 Ben-hur presenting the social project in which he participated
Angelo Viana Júnior finished the presentations highlighting that there are many possibilities of projects using Joomla. He also pointed out that there are several extensions available for free or at low cost through the JED.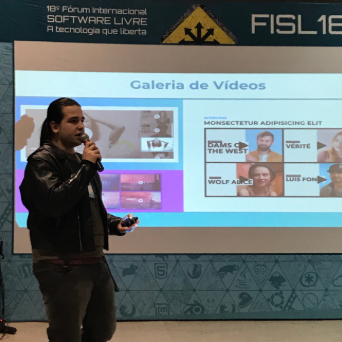 Angelo presenting examples of the extension No Boss Video Gallery
Lastly, thank you to the event organizers and to Ariadne Pinheiro, who began the negotiations to ensure the participation of the community in another edition of FISL.
Comments
No comments made yet. Be the first to submit a comment
By accepting you will be accessing a service provided by a third-party external to https://magazine.joomla.org/